Latent Heat Recovery-type High Efficiency Water Heaters (ECO-JOZU)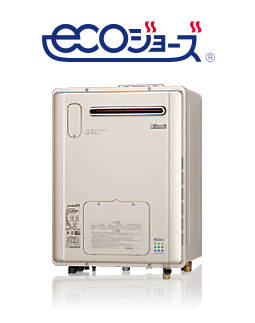 "ECO-JOZU" is the nickname for the highly efficient latent heat recovery-type water heaters that captures and reuses latent heat that was normally exhausted through ventilation in conventional water heaterss, achieving a high heat-efficiency rate of 95%. As of FY 2009, there were 1.6 million units (including city-gas units) in general use, and with the aim of the industry to see 20 million units (including Eco-Will) installed by the year 2020, endeavors are being made at toward standardization in the Eco-Jozu production stage.
Recently, design focus has been on meeting consumer needs leading to the development of light weight and compact types. Furthermore, high-efficiency types are materializing through development by combining with solar water heaters or heat pumps, and widespread usage is looked forward to from the perspective of environmental mitigation measures.
The system combining with
solar water heaters

With heat pump type(Efficency: 110%)