Cogeneration System
ECO-WILL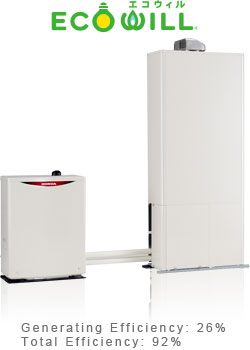 "ECO-WILL" is the nickname for home-use gas engine cogeneration in which electric power is generated by a gas engine powered by LP gas fuel and at the same time, the system collects remaining heat and uses it to feed the supply of hot-water. Output power is approximately 1kw and as of FY 2009, there were approximately 100,000 units (including city gas units) in use throughout Japan.
Commercial-use Cogeneration System
The commercial use gas cogeneration system features a wide lineup of all sorts of product types ranging from 5kW to several hundred kW of power to meet every need of a wide variety of customers such as restaurant, hotel, welfare facilities, hot bath facilities, and golf courses.
Cogeneration System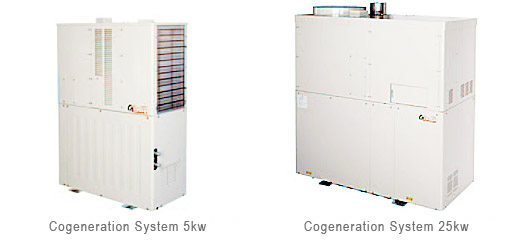 Gas-engine Heat Pump (GHP)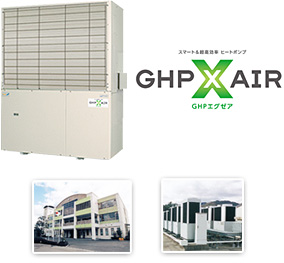 The Gas-engine Heat Pump (GHP) is an air conditioning system that provides heating and cooling by means of heat pump driven by a gas engine compressor. Featuring high energy efficiency, high performance models boast an energy efficiency APF(Annual Performance Factor) of 5.6, and furthermore use only one tenth the power of an electric air conditioner while being friendly to the environment. This system is already in the introduction stage mainly for commercial use. There are approximately 310,000 LP gas units of this type (and 420,000 units of the city gas type) in use nationwide.